Please contact us if we can be of service to you in any way.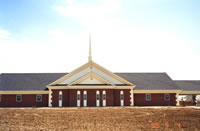 Christ Covenant Presbyterian Church of Amarillo (OPC)
7801 SW. 34th Ave.
Amarillo, TX 79121
Church Office Voicemail: 806-463-1255
Pastor Jeremy Boothby's Email: pastor@ccopc.org

View Larger Map
We are located on the South side of 34th Avenue between Soncy and Coulter on the west side of Amarillo. In the year 2000, God blessed us with property and a new building in the growing western Amarillo community. We praise Him for his continued faithfulness, as we continue to grow in the grace of Jesus Christ.
Do you have a question or concern regarding the functionality of this site? We value your opinion and would love to hear from you. Please send e-mail to the Webmaster.